Alessandro McKinnon-Botti
Bio



Né en novembre 2002 (14 ans)

Première apparition en concert : 1er novembre 2012 (Armagh)

Albums :

Angels Sing: Christmas in Ireland (2013) [live]

Angels Sing: Libera in America (2015) [live] solo sur How Shall I Sing That Majesty (avec Lucas Wood)

Soli en tournée :

Stay With Me (avec Lucas Wood et Cassius O'Connell-White (USA, Arundel 2014))

How Shall I Sing That Majesty (solo (Spring Tour 2015) ou avec Lucas Wood (USA, Arundel, Washington, St John's 2014, Moscou, Guildford 2015))

Morning Has Broken (avec Ciaran Bradbury-Hickey et Isaac London (Washington 2014))

Lullabye (avec Camden Stewart et Sam Wiggin (Spring Tour (USA), Guildford, Exeter, Christchurch 2015))

How Great Thou Art (Spring Tour (USA), Guildford, Exeter, Christchurch 2015, Philippines, Corée du Sud, Romsey, Pologne, Allemagne 2016)

Wayfaring Stranger (Spring Tour (USA), Guildford, Exeter, Christchurch, Osaka, St George's, Japon 2015, Philippines, Corée du Sud, Romsey, Allemagne 2016)

America the Beautiful (avec Thomas Delgado-Little, Isaac London et Ciaran Bradbury-Hickey (Spring Tour 2015))

Nearer My God to Thee (avec Sam Wiggin, Ciaran Bradbury-Hickey, Isaac London et Alex Montoro (Exeter, Christchurch, Osaka 2015) et avec Lucas Wood (St George's, Japon 2015))

Mysterium (Exeter, Christchurch 2015)

Libera (St George's, Japon 2015, Philippines, Corée du Sud, Romsey, Pologne, Allemagne 2016)

Total Praise (Pologne 2016)

Apparitions audio / vidéo
Concerts

---

1er novembre : St Patrick's Cathedral (Armagh, Irlande du Nord)

2 novembre : St Peter's Cathedral (Belfast, Irlande du Nord)

16 novembre : St George's Cathedral (Londres, Angleterre)

---

2 avril : National Concert Hall (Taipei, Taïwan)

3 avril : National Concert Hall (Taipei, Taïwan)

7 avril : Dadong Arts Center (Kaohsiung, Taïwan)

6 avril : Performing Arts Center (HsinChu, Taïwan)

9 avril : ZhongXin Hall (Taichung, Taïwan)

12 avril : St John's Cathedral Church (Bundang, Sung-Nam, Corée du Sud)

13 avril : Sejong Center (Séoul, Corée du Sud)

11 mai : Guildford Cathedral (Guildford, Angleterre)

8 (répétition générale) et 9 août : St Patrick's Cathedral (Armagh, Irlande du Nord) [tournage du dvd Angels Sing: Christmas in Ireland]

29 octobre : PICC (Manille, Philippines)

31 octobre : Chapel of San Pedro Calungsod (Cebu, Philippines)

28 novembre : St George's Cathedral (Londres, Angleterre)

---

15 avril : Church of the Incarnation (New York, USA)

16 avril : Mayo Performing Arts Center (Morristown, USA)

10 mai : Cathedral Church of Our Lady and St Philip Howard (Arundel, Angleterre)

7 août : Basilica of the National Shrine of the Immaculate Conception (Washington, USA) [tournage du dvd Angels Sing: Libera in America]

20 décembre : St John's Church (Londres, Angleterre)

---

18 janvier : Svetlanov Hall (Moscou, Russie)

1er avril : Wilburg Theatre (Boston, USA)

4 avril : Tobin Center (San Antonio, USA)

8 avril : Arcadia Theatre (St Charles, USA)

10 avril : Woodruff Center (Atlanta, USA)

16 mai : Guildford Cathedral (Guildford, Angleterre)

27 juillet : Exeter Cathedral (Exeter, Angleterre)

28 juillet : Christchurch Priory (Christchurch, Angleterre)

5 août : Universal Studios (Osaka, Japon)

11 décembre : St George's Cathedral (Londres, Angleterre)

20 décembre : Universal Studios (Osaka, Japon)

21 décembre : Osaka International Convention Center (Osaka, Japon)

23 décembre : Tokyo Opera City Concert Hall (Tokyo, Japon) (2 concerts)

---

16 février : Philippine International Convention Center (Manille, Philippines)

18 février : Centerstage, SM Seaside City Cebu (Cebu, Philippines)

29 mars : Gyeonggi Arts Center (Suwon, Corée du Sud)

31 mars : Seoul Arts Center Concert Hall (Séoul, Corée du Sud)

1er avril : Icheon Art Hall (Icheon, Corée du Sud)

3 avril : Dae Jeon Arts Center (Seo-gu, Corée du Sud)

23 avril : Romsey Abbey (Romsey, Angleterre)

27 juillet : Kościół pw. św. Kazimierza (Cracovie, Pologne)

28 juillet : Rynek Główny (Cracovie, Pologne) (JMJ 2016)

2 août : Pilgerkirche (Vallendar, Allemagne)

2 décembre : St George's Cathedral (Londres, Angleterre)

---
Dernière édition par The Furby le Dim 08 Jan 2017, 20:49, édité 43 fois
Sur twitter @hannahkirstin à indiqué qu'Alessandro avait participé à un concert de Danny Elfman, le compositeur attitré des bo des films de Tim Burton 

Il a apparemment chanté le "Alice's Theme" du film "Alice in Wonderland"
Son nom figure sur la couverture du programme, et il a même un article dédié :
C'est pas très lisible, mais on apprend qu'Alessandro a un temps fait partie de la Schola Cantorum de la Cardinal Vaughan Memorial School (ça répond à la question qu'on se posait
ici

 ), et qu'il a entre autres chanté à Westminster et au Royal Albert Hall, avant de rejoindre Libera  

Dernière édition par The Furby le Mar 21 Avr 2015, 09:40, édité 1 fois
Quelques vidéos du concert ont été uploadées sur YT, dont la performance d'Alessandro

Dernière édition par The Furby le Ven 24 Avr 2015, 14:43, édité 2 fois
Super trouvaille !!

Merci beaucoup The Furby !


fan_de_LoK

Assistant chef de choeur




Messages

: 4317


Localisation

: Paris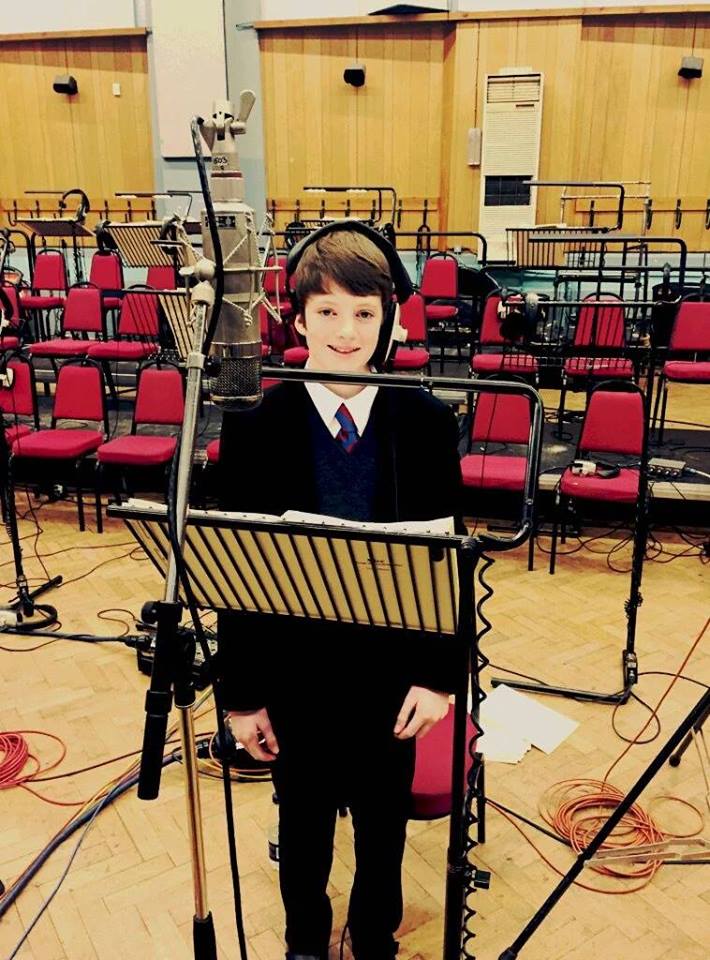 Alessandro recording at Abbey Road. 
Photos par Vaughan Music avec l'aimable autorisation de Antonet Favila
(Publiée le 27 janvier 2016 sur la page facebook :
The Libera Nation

RV_49

En répétition chez Libera




Messages

: 307




Sujets similaires
---
Permission de ce forum:
Vous
ne pouvez pas
répondre aux sujets dans ce forum