Eoghan McCarthy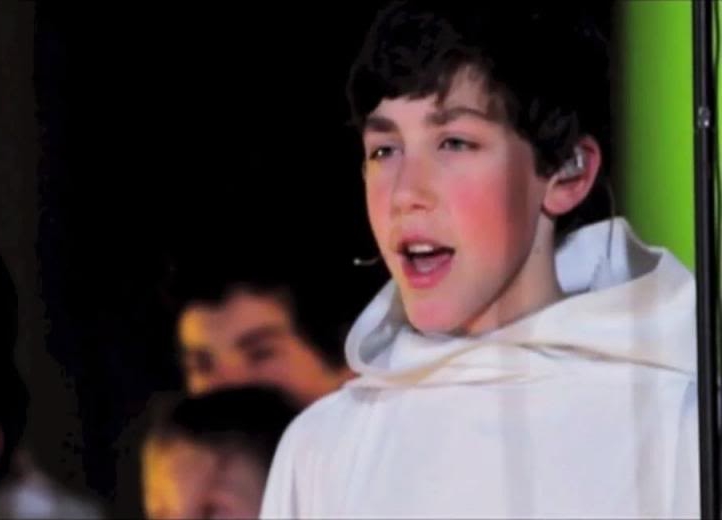 Bio



Né le 15 août 2000 (16 ans)

Hobbies : piano, violon, sport

Première apparition en concert : 18 mars 2011 (Epsom)

Sortie en 2014

Albums :

The Christmas Album (2011) : solo sur Once in Royal David's City.

Angels Sing: Christmas in Ireland (2013) [live]

Angels Sing: Libera in America (2015) [live]

Soli en tournée :

Glory to Thee ((USA 2011, Philippines 2011, Singapour, Japon, Arundel, Jersey & Guernesey, Irlande du Nord, St George's 2012) avec Matthew Jansen (Taïwan, Corée du Sud, Guildford 2013))

Libera (Irlande du Nord, St George's 2012) (avec Luke Collins (USA 2011, Singapour, Arundel, Jersey & Guernesey 2012) ou avec Dylan Duffy (Guildford 2013))

How Shall I Sing that Majesty (Jersey & Guernesey, Irlande du Nord, St George's 2012) (avec Jakob De Menezes-Wood (USA 2011), avec Stefan Leadbeater (Philippines 2011, Singapour, Japon et Arundel 2012)), ou avec Matthew Jansen et Lucas Wood (Taïwan, Corée du Sud, Guildford 2013))

Sanctissima (Jersey & Guernesey 2012) (avec Thomas Delgado-Little (Irlande du Nord, St George's 2012))

Attende Domine (grégorien) (Arundel, Jersey & Guernesey 2012)

Apparitions audio / vidéo
Concerts

---

18 mars : Epsom Playhouse (Epsom, Angleterre)

14 avril : St Michael's Catholic Cathedral (Toronto, Canada)

15 avril : First-St Andrew's United Church (Londres, Canada)

17 avril : Islington United Church (Toronto, Canada)

18 avril : The Centre in the Square (Kitchener, Canada)

19 avril : St Paul's Congregationnal Church (Chatham, Canada)

22 avril : West Highland Baptist Church (Hamilton, Canada)

24 avril : Church of Our Lady Immaculate (Guelph, Canada)

27 juillet : Basilica of St. Mary (Minneapolis, USA)

29 juillet : Cathedral of Saint Paul | National Shrine of the Apostle Paul (St Paul, USA) (messe et concert)

31 juillet : Moody Church (messe) et Rockefeller Chapel (concert) (Chicago, USA)

3 août : Cathedral Basilica (St Louis, USA)

7 août : Stonebriar Community Church (Frisco, USA)

9 août : Tallowood Baptist Church (Houston, USA)

25 octobre : PICC (Manille, Philippines)

28 octobre : Waterfront Hotel (Cebu, Philippines)

25 novembre : St George's Cathedral (Londres, Angleterre)

---

6 avril : Esplanade Theatre (Singapour, Singapour)

7 avril : Esplanade Theatre (Singapour, Singapour)

13 avril : Bunkamura (Tokyo, Japon)

14 avril : Bunkamura (Tokyo, Japon)

5 mai : Cathedral Church of Our Lady and St Philip Howard (Arundel, Angleterre)

1er août : Opera House (Jersey, Îles Anglo-Normandes)

2 août : Opera House (Jersey, Îles Anglo-Normandes)

7 août : St James Hall (Guernsey, Îles Anglo-Normandes)

8 août : St James Hall (Guernsey, Îles Anglo-Normandes)

1er novembre : St Patrick's Cathedral (Armagh, Irlande du Nord)

2 novembre : St Peter's Cathedral (Belfast, Irlande du Nord)

16 novembre : St George's Cathedral (Londres, Angleterre)

---

2 avril : National Concert Hall (Taipei, Taïwan)

3 avril : National Concert Hall (Taipei, Taïwan)

7 avril : Dadong Arts Center (Kaohsiung, Taïwan)

6 avril : Performing Arts Center (HsinChu, Taïwan)

9 avril : ZhongXin Hall (Taichung, Taïwan)

12 avril : St John's Cathedral Church (Bundang, Sung-Nam, Corée du Sud)

13 avril : Sejong Center (Séoul, Corée du Sud)

11 mai : Guildford Cathedral (Guildford, Angleterre)

8 (répétition générale) et 9 août : St Patrick's Cathedral (Armagh, Irlande du Nord) [tournage du dvd Angels Sing: Christmas in Ireland]

29 octobre : PICC (Manille, Philippines)

31 octobre : Chapel of San Pedro Calungsod (Cebu, Philippines)

28 novembre : St George's Cathedral (Londres, Angleterre)

---

15 avril : Church of the Incarnation (New York, USA)

16 avril : Mayo Performing Arts Center (Morristown, USA)

10 mai : Cathedral Church of Our Lady and St Philip Howard (Arundel, Angleterre)

7 août : Basilica of the National Shrine of the Immaculate Conception (Washington, USA) [tournage du dvd Angels Sing: Libera in America]
Dernière édition par The Furby le Dim 08 Jan 2017, 21:02, édité 116 fois
Super The Furby ! En si peu de temps, il a déjà beaucoup de responsabilités

Ce ne serait pas étonnant qu'il ait un solo sur l'album Christmas

Superbe fiche The Furby. MERCI.

Bullehynka a écrit:Ce ne serait pas étonnant qu'il ait un solo sur l'album Christmas
Ca ne m'étonnerait pas non plus! Je l'espère, sa sublime interprétation de "Glory to Thee" donne envie d'en entendre plus

Voici une vidéo d'Eoghan chantant Panis Angelicus. Apparemment il a été pendant 3 ans à la Westminster Cathedral Choir School.
(J'ai lu ça dans un commentaire sur la vidéo d'How Shall I Sing That Majesty à la moody church de Chicago)

Vidéo trouvée par alcesalcesobservator

Merci, encore une vidéo de dénichée.

Ceci dit je trouve que RP exploite 10 fois mieux son potentiel ! Je crois qu'il est surtout très bon pour les mélodies lentes (si on y réfléchit bien, tous ses solos sont sur des tempos lents - ah non y avait "Libera", en Irlande du Nord ; mais bon globalement RP le choisit pour les chansons lentes).

myosotis

Enfant de choeur à Norbury




Messages

: 228


Age

: 33


Localisation

: Région parisienne



Une vidéo datant de 2012, on peut voir Eoghan interpréter au piano "Miniature in D minor" de Aleksandr Gedike (début de vidéo) et un peu plus loin chanter le morceau "Down by the Sally Gardens" (à 6:47) 

Kavana et Eoghan ont enregistré ensemble une reprise du morceau "Can't Help Falling in Love", avec le premier à l'ukulélé et le deuxième au chant


Sujets similaires
---
Permission de ce forum:
Vous
ne pouvez pas
répondre aux sujets dans ce forum