le Dim 11 Nov 2012, 15:47
Thomas "Tom" Delgado-Little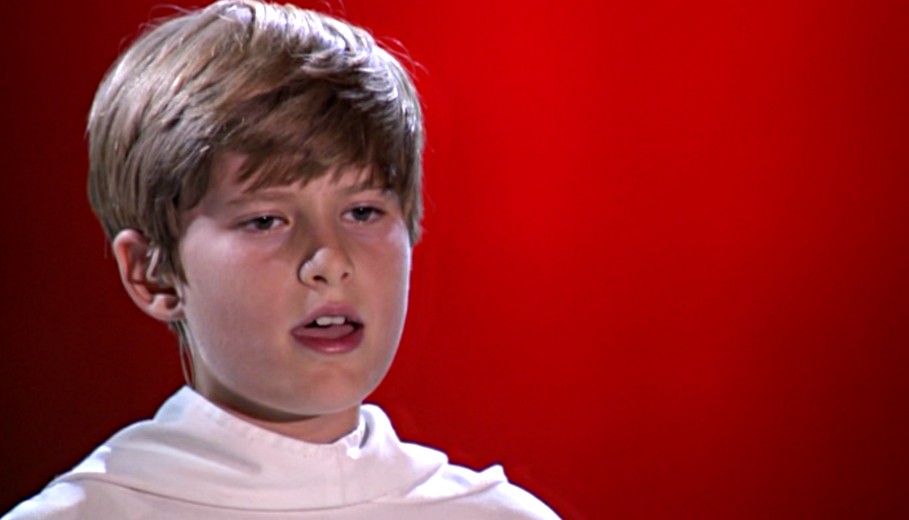 Bio



Né le 3 janvier 2002

Première apparition en concert : 15 mai 2010 (Arundel)

Sortie en 2015

Sanctissima (avec Eoghan McCarthy (Irlande du Nord, St George's 2012))
Voca Me (version 1) (déchant)

(Irlande du Nord, St George's 2012, Taïwan, Corée du Sud, Guildford, Armagh, Philippines (sauf Cebu), St George's 2013, USA, Arundel 2014, Exeter, Christchurch 2015)

Eternal Light (avec Jude Collins (Jersey & Guernesey, Irlande du Nord, St George's 2012))
I Vow To Thee My Country (avec Matthew Jansen & Dylan Duffy (Singapour, Japon, Arundel, Jersey & Guernesey, Irlande du Nord, St George's 2012))
Be Still My Soul (avec Matthew Jansen (Irlande du Nord, St George's 2012))
The Fountain (avec Matthew Jansen (Jersey & Guernesey, Irlande du Nord, St George's 2012))
Grateful Heart (avec Michael Ustynovych-Repa (Jersey & Guernesey, Irlande du Nord, St George's 2012, Taïwan, Corée du Sud, Guildford 2013))
Exultate

(Jersey & Guernesey, Irlande du Nord, St George's 2012, Taïwan, Corée du Sud, Guildford, Armagh, Philippines, St George's 2013, USA, Arundel 2014, Spring Tour (USA), Guildford, Exeter, Christchurch, Osaka 2015)

I'm Dreaming of Home (vocalises)

(Guildford, Philippines, St George's 2013, USA, Arundel 2014, Guildford, Exeter, Christchurch 2015)

Once In Royal David's City

(Armagh 2013)

Silent Night

(Armagh, Philippines, St George's 2013)

Angels We Have Heard on High (déchant) (avec Lucas Wood (Philippines, St George's 2013))
Corpus Christi Carol

(St George's 2013)

Carol of the Bells (vocalises) (avec Lucas Wood (Armagh, Philippines, St George's 2013, Moscou 2015))
Ave Maria (Schubert)

(USA, Arundel, Washington 2014, Moscou 2015)

Glory to Thee

(USA, Arundel 2014)

Rest In Peace

(Washington 2014)

Morning Has Broken

(USA, Guildford 2015)

O For The Wings of a Dove

(USA, Guildford, Exeter, Christchurch 2015)

America the Beautiful (avec Ciaran Bradbury-Hickey, Isaac London & Alessandro McKinnon-Botti (Spring Tour 2015))

Apparitions audio / vidéo
Concerts




[absent du concert d'Epsom]




[absent de la tournée au Canada]
le Dim 11 Nov 2012, 19:16
Magnifique travail The Furby,
RV_49

En répétition chez Libera


Messages

: 328

le Mar 13 Nov 2012, 12:38

...

The Furby.
zor.

Apprenti chanteur


Messages

: 42


Localisation

: BiARRITZ

le Lun 19 Nov 2012, 23:12
le Dim 09 Mar 2014, 21:44
D'après un post de John sur
Libera Dreams
 le mois dernier, Tom a récemment tenu le rôle de Paris dans l'opéra
King Priam
, et a reçu une foultitude d'éloges pour sa performance 

"Paris's childhood incarnation was impeccably well taken by treble Thomas Delgado-Little"

"the fine stage presence and wonderfully musical singing of Thomas Delgado-Little in the treble role of the young Paris."

"Thomas Delgado-Little was nothing short of brilliant as Young Paris, appearing at ease on stage and singing with calm purity and clarity."

"The young Paris was played by a treble, Thomas Delgado-Little, who projected the not uncomplicated lines with security and accuracy."

"Thomas Delgado-Little did a truly excellent job as Paris's younger self: one of the most self-assured and dramatically convincing performances I have seen from a boy treble."

"there is a performance of extraordinary self-possession from young Thomas Delgado-Little, who plays Paris as a boy."
Déjà Stefan, maintenant Tom, c'est chouette de voir certains boys profiter de ce genre d'opportunité  

le Lun 13 Oct 2014, 22:52
Comme Stefan il y a 3 ans, Tom joue le rôle de Miles dans l'opéra "The Turn of the Screw" ("Le Tour d'Ecrou") de Britten

 (signalé par JimmyRiddle)
fan_de_LoK

Assistant chef de choeur


Messages

: 4417


Localisation

: Paris

le Lun 20 Oct 2014, 21:01
L'organisation Glyndebourne a publié sur sa page facebook 38 photos de la production du 'Turn of the Screw', dont de nombreuses avec Tom D-L

https://www.facebook.com/media/set/?set=a.10152800031973399.1073741871.15830933398&type=3
le Dim 02 Nov 2014, 16:31
Une vidéo aperçu de "The Turn of the Screw". Dommage qu'il n'y ait pas d'extrait où on entend distinctement Tom 

le Ven 06 Fév 2015, 00:36
Une nouvelle participation musicale pour TDL

(merci JimmyRiddle)
https://www.facebook.com/GuildfordTIC/photos/a.138537397410.122078.131313462410/10152545109332411/?type=1&permPage=1
Vivace Chorus' first concert of 2015, Saturday 7th March at GLive, will be a great opportunity to see international violinist and one of the UK's best-known musicians, Tasmin Little, in action playing the Mendelssohn violin concerto. 
Also on the bill is the Hebrides Overture – perhaps better known as Fingal's Cave – and Hear My Prayer, with treble Thomas Delgado-Little singing 'O for the wings of a dove', described by major opera critics as having " an angelic treble" and "the true star of the show", for his performances on the 2014 Glyndebourne Tour.
le Jeu 23 Avr 2015, 00:13

Permission de ce forum:
Vous
ne pouvez pas
répondre aux sujets dans ce forum